About
CHARLESTON FARMERS MARKET
Regular CFM Season
April 4 – November 28, 2015
Saturdays, 8 am – 2 pm
Sundays During Piccolo Spoleto Festival
May 24, 31 & June 7 (9am-3pm)
Holiday Market
December 5, 6, 12, 13, 19 & 20
Saturdays & Sundays, 9 am-3 pm
Location:
Marion Square
329 Meeting Street – Charleston, SC 29403
King & Calhoun Streets
Admission: FREE
Founded by Mayor Joe Riley in 1989, and the Clemson University Cooperative Extension Service, the Charleston Farmers Market (CFM) is produced by the City of Charleston Office of Cultural Affairs, in cooperation with the City of Charleston Parks Department and Special Events Committee.  Over the years, the CFM has received numerous awards: in 2005, the revitalized CFM relocated back in Marion Square after renovations and received the Three Sisters Award from the Charleston Save the City Committee; in 2008 was ranked by Travel + Leisure magazine as one of the top 10 best Farmers Markets in the nation; and in the Charleston City Paper reader's poll, "Best Of," the CFM was named "Best Outdoor Event" and/or "Best Attraction" in 2010, 2011, 2012, 2013 & 2014!
Located in Marion Square at the heart of historic downtown Charleston, SC, the CFM is open each Saturday, from April through November, 8 a.m. to 2 p.m. with additional Sundays during the Piccolo Spoleto Festival in May and June as well as Saturdays and Sundays during Holiday Magic in December. The CFM is dedicated to the support and advocacy of Lowcountry farmers, growers, prepared/packaged food, artisans, crafters and live performers. We offer a variety of local produce, plants, herbs and cut flowers as well as breakfast and lunch vendors, live entertainment and an assortment of juried arts and crafts from local artisans. Attracting citizens and visitors alike, the CFM is the community connection, bringing together people from all parts of the Lowcountry and beyond. Whether you are a local that joins us each weekend or a visitor just passing through, we have something for everyone and we appreciate your support!
Meet the 2015 CFM poster artist
 BIO: 
An award-winning artist, Amanda Norman has gained clients from coast to coast including interior designers, art collectors and celebrities. Housed in private and corporate collections, sold through national retailers and featured on television, Amanda's signature style is threaded throughout her wide variety of subject matter.
 A native of Nashville, the artist graduated with honors from Brown University in 2004 with a degree in Visual Art. She also studied graphic design at The New School in NYC as well as sculpture and site-specific installation at RISD's Pont Aven School of Art in France.
"My favorite part about painting is how it relates to the process of life. Some strokes are carefully thought out; others are happy accidents. In the end, it's the intersection of the deliberate and the unexpected that is the most authentic and exciting."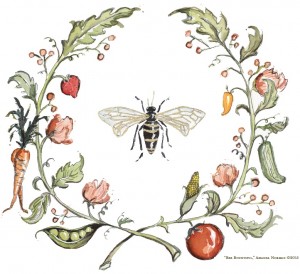 STATEMENT ABOUT THE PIECE: 
Bees represent community, hard work and extracting the honey of life. Much the same could be said about the farmer's market: it brings the community together, it takes a lot of hard work on the part of the farmers and vendors and it celebrates some of life's most simple treasures. Bees also help to pollenate many of the fruits, vegetables and flowers which are sold and enjoyed. It is a reminder of the connectivity of life and how we all have an opportunity to pollenate one another's lives and help each other grow. So here's to the message of the bees and their reminder to come together, work hard and celebrate the simple things.
FOR MORE INFORMATION, CONTACT: 
Harrison R. Chapman, CFM Manager
City of Charleston Office of Cultural Affairs / 180 Meeting Street, Suite 200 / Charleston, SC  29401
(843) 724-7305 or FarmersMarket@charleston-sc.gov or ChapmanH@charleston-sc.gov
Do you LOVE the Charleston Farmers Market? 
If so, make a tax-deductible donation to help us keep it vibrant!  DONATE ONLINE
Wondering What Else is Going on in Charleston?  View the CALENDAR