About
CHARLESTON FARMERS MARKET
Regular CFM Hours
April 12 – November 29, 2014
Saturdays 8 am – 2 pm
Sundays During Piccolo Spoleto Festival (9 am – 3 pm)
May 25, June 1 & 8
Holiday Market Hours (9 am – 4 pm)
Saturday, December 6, 13 & 20
Sunday, December 7, 14 & 21
Location:
Marion Square
329 Meeting Street – Charleston, SC 29403
King & Calhoun Streets
Admission: FREE
* 2014 CFM Season Begins April 12th *
Founded by Mayor Joe Riley in 1989, and the Clemson University Cooperative Extension Service, the Charleston Farmers Market is produced by the City of Charleston Office of Cultural Affairs, in cooperation with the City of Charleston Parks Department.  Over the years, the Charleston Farmers Market has received numerous awards: in 2005, the Charleston Farmers Market newly revitalized and relocated back in the renovated Marion Square, received the Three Sisters Award from the Charleston Save the City Committee; in 2008, the Market was ranked by Travel and Leisure magazine as one of the top 10 best Farmers Markets in the nation; and in the Charleston City Paper reader's poll, "Best Of," the Charleston Farmers Market was named Best Outdoor Event in 2009, 2010, 2011 & 2012!
Located in Marion Square at the heart of historic downtown Charleston, S.C., the CFM is open each Saturday, from April to December, 8 a.m. to 2 p.m. with select Sundays during the Piccolo Spoleto Festival in May and June as well as Holiday Magic in December. The CFM is dedicated to the support and advocacy of Lowcountry farmers and growers. We offer a variety of local produce, plants, herbs and cut flowers as well as breakfast and lunch vendors, live entertainment and an assortment of juried arts and crafts from local artisans. Attracting citizens and visitors alike, the CFM is the community connection every Saturday morning from April through December, bringing together people from all parts of the Lowcountry and beyond.
Meet the 2014 CFM poster artist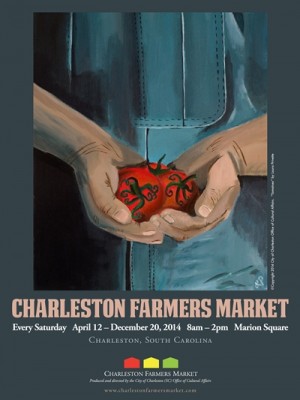 My name is Laura Privette and I am from New Zion, SC. I am currently a senior at Charleston Southern University. I am majoring in Graphic Design and I have two minors: Business and Studio Art. 
My inspiration behind the painting actually came from growing up in the south. My home is surrounded by fields that are full of many different types of crops throughout the year. As a child, I loved being outside and helping my grandparents plant things in their garden. I imagine the hands in the painting being my grandfather's after he's picked something from his own garden. I think it is important to emphasize how much work and dedication our farmers put into their produce.
-Laura Privette
FOR MORE INFORMATION, CONTACT: 
City of Charleston Office of Cultural Affairs / 180 Meeting Street, Suite 200 / Charleston, SC  29401
(843) 724-7305 or FarmersMarket@charleston-sc.gov or ChapmanH@charleston-sc.gov
Do you LOVE the Charleston Farmers Market? 
If so, make a tax-deductible donation to help us keep it vibrant!  DONATE ONLINE
Wondering What Else is Going on in Charleston?  View the CALENDAR